Andy Reynolds
Hometown:

Lake Wylie, South Carolina

Birthday:

January 21, 1971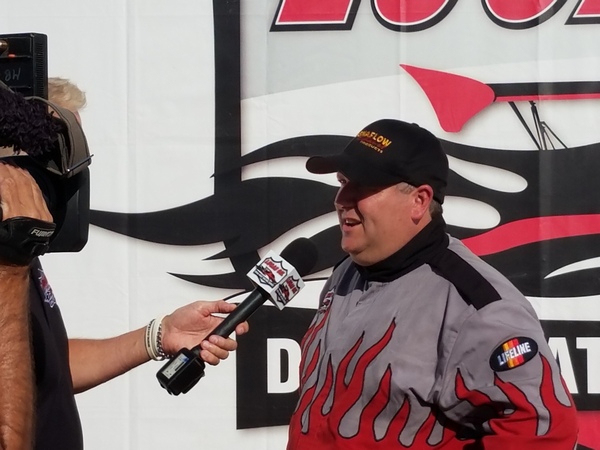 Andy begin is love of racing via his older brother Joe. Andy crewed for teams like Chuck Shelton and Doug McMannis when Joe was building and maintaining their boats. Andy got to test Chuck's boat at the age of 16 and this rest is history.

Andy started competing as a driver for The Stokes Family (Gary, Eric and Sylvia) in an open cockpit boat named "Cole Fever"! Winning Rookie of the year and The Points Championship in 1992,1993 in the Cole Hydro with a top speed of 133 MPH.

Then Andy started competing in a boat co-owned with his brother named "Parental Discretion Advised" in the Pro Eliminator category.

After a few years there was the itch to go faster and in 1997 he made the move to the Pro Modified category with speeds nearing 180 MPH.

Andy moved up to the professional category of Top Alcohol Hydro thanks to some very generous friends and sponsors Tom and Kathie Cowman in 2000. That year the team set the NDBA ET and MPH records at 5.61 @ 215.66 MPH in a 1/4 mile course, as well as, winning the prestigious World Finals of Drag Boat Racing at Firebird Lake in Chandler , AZ!

Years of partnerships with Bob Genther driving his "Deja Vu" and Old Dogs - New Tricks" entries, as well as, Kent Price's "Black Dragon" leading us today with the current boat being the fastest one to date "Running With Scissors!"
Occupation:

Real Estate Agent with Keller Williams Realty

Hobbies:

Any kind of boating, fishing and racing!

Racing Division:

Southern Drag Boat Association

Years Racing:

32

Chassis:

Kurtis Kraft

Engine Builder:

Joe Reynolds -Andy's older brother.

Crew Chief:

Joe Reynolds

Pit Crew:

Jeremy Boughman, Andy Hall, Ralph Fuller, Tandy Fuller, Dave Bobert, Kim Bobert, Karen Reynolds, Forrest Robinson & Perry Johnston.

Favorite Track:

Lucas Oil Speedway's Lake Lucas at Wheatland, MO for smooth, fast water & up close action for spectators! and Wild Horse Pass Motorsports Park in Chandler, AZ for the long history and prestige.

Favorite Race:

The next one!
1992 Rookie of Year USDBA.

1992,1993,1994,1995,1999, 2000, 2001, 2010 National Champion in Pro Eliminator, Pro Modified and Top Alcohol Hydro categories for USDBA,SDBA,NDBA, ADBA AND LODBRS.

2000 Elapsed Time and MPH record holder for NDBA @ 5.61 seconds at 215 MPH in a quarter mile.

2010 Lucas Oil World Champion-Top Alcohol Hydro.

2000 & 2009 World Finals Champion in Top Alcohol Hydro.

Multi time winner of National Events from 2000-2018 in Top Alcohol Hydro.

Number 1 qualifier at multiple National Events.

Fastest Speed 225 MPH in a quarter mile.

Quickest ET of 4.27 at 211 MPH in 1000 ft. ( Which is the fastest recorded elapsed time ever by a Top Alcohol Hydro since the course was reduced to 1,000 ft.